Four years ago I sold my last truck, climbed onto a touring bike and rode off across the US. Since then I have had no desire or need for motor vehicles. I own a couple of specialty cargo bicycles for such tasks as hauling large parcels from the post office or transporting furniture but for the most part, I use a Brompton electric folding bike for my transportation and shopping.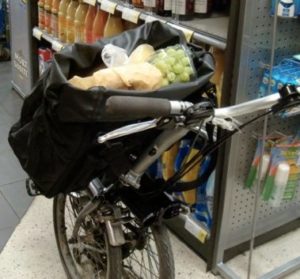 The Brompton folds up into a package that is only 22″ x 21″ x 10″ for carrying onto ferry boats, sea planes or airlines. It also collapses into a neat little shopping cart configuration using the Brompton shopping basket or a Valeria's Barcelona basket bag. Places that would never allow a standard size bicycle make allowances for the Brompton. A few days ago I was down at the Cruise ship docks. They have a standing policy against allowing bikes on the premises. I folded the Brompton into the shopping configuration and just strolled right in pushing the cart ahead of me without any notice from the guards. I think they assumed it was some sort of luggage carrier or hand truck. I've taken the Brompton into pubs and restaurants and just stored it under my table with no problems.
When the bike is fully open it rides like a normal geared bike but with the added assistance of an electric hub motor. This levels out hills and allows me to travel at much greater speeds for longer distances. The top speed of my e-bike is 25mph but I usually cruise along at 15mph using the pedal assist. It feels like I always have a tailwind and makes riding much more enjoyable. At only 9 cents per mile (electricity consumption), this is one of the most cost efficient methods of traveling around the island.
I need no drivers license, registration or insurance to ride my bike and the added benefit of excercise and fresh air is not to be dismissed lightly. I save so much money and stress by not having a car that I regret not making the move to a bicycle sooner. I feel totally free and liberated from the concerns of finding parking places and storage areas for a motor vehicle while I am off island. The savings on annual car maintenance alone has paid me back for the cost of my electric Brompton. These are just a few of the many reasons I use a Brompton folding bike as my primary mode of transportation.