The iconic Brompton folding bicycle has a deserved reputation for hand made quality. With the smallest fold size of any bike and firm rigid handling characteristics, the Brompton has gained a strong following amongst city commuter cyclists and bike tourists alike. Constructed of brazed steel tubing, the basic design has not changed much since 1975. This is one of the main reasons the Brompton holds its value and can be customized with a variety of after-market parts. A typical price for a previously owned Brompton is $1400 USD and even stripped down frame sets bring prices of $700 USD on auctions. Brompton owners are fiercely loyal and tend to hang onto their precious bikes forever so the second hand market for them is very lean.
Here at St Thomas Bikesmith, we build custom Brompton wheelsets with dynamo hubs, exotic internally geared hubs and electric assist systems. We also supply quality after-market titanium parts and specialized handlebars & saddles. We work with an excellent powder coating company that has experience in color coating Brompton frames. This can be a difficult job considering their complex hinged areas. We install Tannus solid tires for flat-free riding and even build a special smaller 16″ wheel (305mm) so it is possible to fit the Schwalbe Big Apple 2″ tires for those that like fatter tires under the fenders. In short, we are a one-stop shop for all things Brompton. Our goal is to keep your Brompton running smoothly for years to come. In addition to custom builds and repairs, we also buy used Brompton's and frame parts for our inventory. Don't hesitate to email us with your questions.
Why are electric Brompton's becoming so popular? According to the US Bureau of Transportation, 68 percent of Americans reported a one-way commute to work of 15 miles or less. The median distance to the nearest grocery store is seven miles or less. In large metropolitan areas, these distances are much shorter. Using an electric bike, it is easy to maintain an average speed of from 10mph to 15mph so these distances are easily obtainable. A Brompton allows a person to ride to work or the store without breaking a sweat. The bike is then folded up and stored under a desk or used as a shopping cart in the market. The Electric Brompton flattens out the hills and makes every ride an enjoyable experience.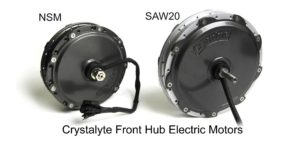 For quite a few years there have been electric hub kits available for the Brompton but all have required modifications to the frame. The controller and battery placement has not been the most elegant on these kits either and the display consoles had much to be desired in the way of statistic readouts. Now that Brompton has announced the release of their official e-bike sometime in early 2018, the aftermarket electric Brompton kits have started to come out of the woodwork.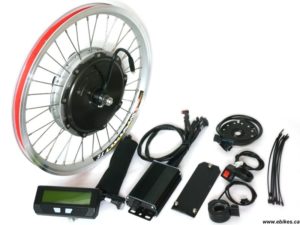 We at St Thomas Bikesmith recommend the Grin Technologies kit which is superior in power to even the official Brompton factory specs. We retrofit this kit onto existing Brompton's for only $1065USD, including all excise tax, customs fees and installation. The bike and battery is not included in this price. Due to the Brompton's small folding size, these bikes can be shipped via USPS priority mail to and from our shop for a very reasonable rate so we accept orders from all corners of the United States and US Territories.